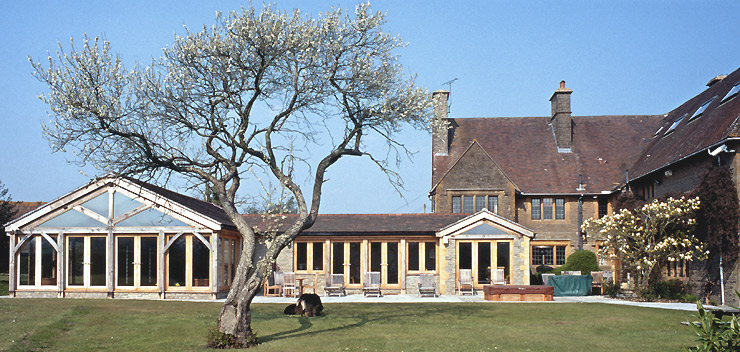 Specialists in structural carpentry
The Oak Frame Carpentry Company specialise in the design and construction of structural timber frames. Commonly known as "oak framing," this ancient technique enables the creation of beautiful, unique buildings that have been proven to last for centuries. From small decorative structures through to massive enclosed spaces, the versatility of wood is without equal in creating a diverse range of environments - from the ultra-modern to the thoroughly traditional.
The Oak Frame Carpentry Company have a wealth of experience in all aspects of producing timber-framed buildings, and use this knowledge to combine the best of modern technology with the time-honoured techniques that have served carpenters for centuries.
We develop and then utilise the most sophisticated computer aided modelling software available to ensure your build progresses smoothly, on budget and with the minimum of wastage and delays.
In addition, the painstaking study of the numerous restoration projects we have undertaken allows our carpenters to further understand the wealth of information that is embodied in the fabric of the historic buildings we examine and restore.
The design and construction of each and every joint, truss and timber structure that leaves our framing yard is guided by an appreciation of the processes and methods that we discover within these durable and elegant structures.
The Oak Frame Carpentry Company specialise in the construction of green oak frames for complete houses, extensions and roof trusses.These are jointed and assembled in our workshop,then dismantled,delivered and erected on site. Each piece is lifted into position by crane and secured with cleft oak pegs.
Design
Our design service covers the widest range of possibilities offered by structural carpentry. Using CAD design tools,we can produce plans and models of frames ranging from traditional or vernacular to the thoroughly contemporary. Great care is taken to deliver a design tailor-made to the client's aesthetic and practical requirements. Communication between the architect, structural engineer or designer on a project is facilitated by a high speed transfer of detailed drawings.
Carpentry
Our carpenters are all trained in traditional scribe carpentry. Our toolkits contain a variety of specialist tools largely unchanged for hundreds of years. These are complimented with electric drills, chain morticers and circular saws. Much of the work is still finished entirely with hand tools, using time-honoured traditional techniques.
Jointing
Our frames are constructed with a wide repertoire of structural joints, principally large pegged mortice and tenon joints. Each elevation has a "lay-up" procedure, each timber being scribed and jointed to its neighbours and marked by chisel to identify it at the assembly stage.
Planning
Planning departments are generally keen on traditional oak carpentry and will often allow oak framed extensions and conservatories on listed buildings. We have built a variety of extensions on period stone and brick properties. Using double glazing between the oak stud-work creates a light and dynamic living space that blends delightfully with a stone dwelling.
Conservation work
Our experienced craftsmen are skilled in the repair of grade 1 or 2 listed buildings. We survey historic timber frames and can provide a schedule of works required. Frames are restored with full structural integrity and great attention to understanding and preserving the original form. Decorative features such as chamfers, mouldings and carving can be applied in sympathy to the existing details.