Huge Frames
Very large structures carry their own particular challenges to the timber framer. When a single timber can weigh a tonne, it is vital to think very carefully about each procedure. Simply turning a piece over in the workshop is difficult enough to make you think very carefully about the order of your work. Heavy lifting equipment and properly trained personnel, together with a carefully planned procedure, make for safe and efficient work.
Chapelfield Mall, Norwich
The specification called for massive, very high grade seasoned oak timbers over 8 metres in length. We managed to procure outstanding pieces of oak from sustainable production, the size and quality of the individual timbers making them virtually irreplaceable.
The entire structure was modelled in detail, incorporating the site measurements, using the Framewright CAD software system developed by The Oak Frame Carpentry Co Ltd. In this way, the canopy and posts, comprising more than 70 tonnes of seasoned oak and stainless steel, was fabricated in sections and then transported to the site where it was erected with perfect precision using a mobile crane to lift the individual elements into position. The awesome structure now provides a massive sheltered walkway bringing shoppers from Norwich City up to the front of the New Chapelfield Mall
The Grove Spa - A Luxury Resort Swimming Pool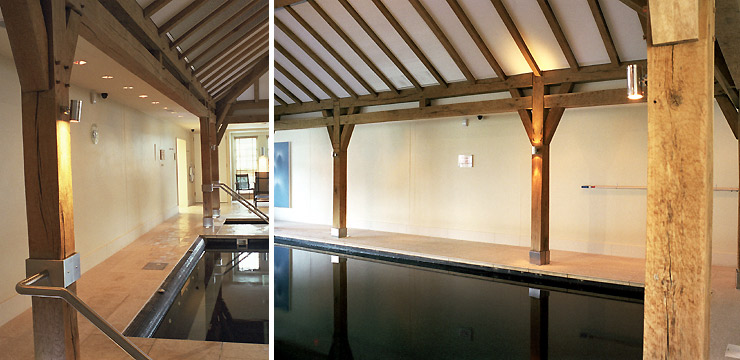 Working with Kier Southern, The Oak Frame Carpentry Co completed this giant green oak and stainless steel structure for a 4 star leisure complex in the South of England
A Severn Valley Tithe Barn
This important late medieval Tithe Barn was burnt to the ground in the early 90's and The Oak Frame Carpentry Co was contracted to completely re-build the entire frame. Taking clues from the remnants of charred timber and some survey material from the 60's, the original configuration of the structure was established. To find the base crucks, the size and shape of the original proved to be a challenge, but these were eventually tracked down. Each slab from which the cruck blades were cut weighed over a Tonne and had to be shaped into the exact form of the originals.
This fine Barn is now completely restored to its former glory.