CONSERVATION WORK
Our experienced craftsmen are skilled in the repair of ancient timber structures, including Grade 1 or 2 listed buildings. We survey historic timber frames and can provide a schedule of works as required. Frames are restored with full structural integrity and with particular attention paid to understanding and preserving the original form. Decorative features such as chamfers, mouldings and carving can be applied in sympathy to the existing details.
Restoration
The Oak Frame Carpentry Co has always pursued restoration projects. Ancient timber structures provide fascinating insights into life and work in earlier times, particularly into carpenters' working practices. Much of the practical knowledge and technique which we have accrued today is as a result of painstaking study of these buildings and by careful analysis of the marks which the workmen's tools have left upon them.
A Gloucestershire Court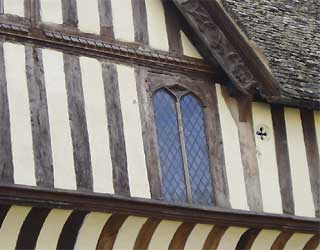 This extraordinary collection of interconnected buildings reveals a long history of adaptation and addition, telling a story of the social and religious evolution of medieval England, to the present day.
It is hard to judge which are the finest timber frame elements in this building which contains a medieval cruck barn, a 15th Century court, a later Tudor frontage and grand entrance, a jacobean panelled ceiling - the list goes on.
We were able to completely restore the original form of the coved jetty complete with its carved mouldings, which is certainly one of the longest in the country.
The brattished or crenallated tie beam shown to the right, was replicated from surviving traces under the barge board.
The door was modelled on the South door of Gloucester Cathedral, a local building that would have been closely connected to this one. The door is double planked and clasped with forged nails. We commissioned the strap hinges as scaled-down versions of the cathedral originals and fitted them with clasped nails. The doors are hung on traditional iron pintles set into the original holes in the stone arch.
The small pentice door on the right is over six feet in height, and so one may imagine the great weight of these doors made from oak and iron.
King Stanley Oriel Feature
This building had the entire lower frontage ripped out early in the 20th Century and plate glass windows were introduced to create what must have been a modern shopfront.
Now back in domestic use, we scrutinised the building and made our best guess as to its intended form. The jettied dormer with its windows on three floors appeared to have been an early addition to the original frame, but enough evidence remained in the timbers for us to suggest this configuration.