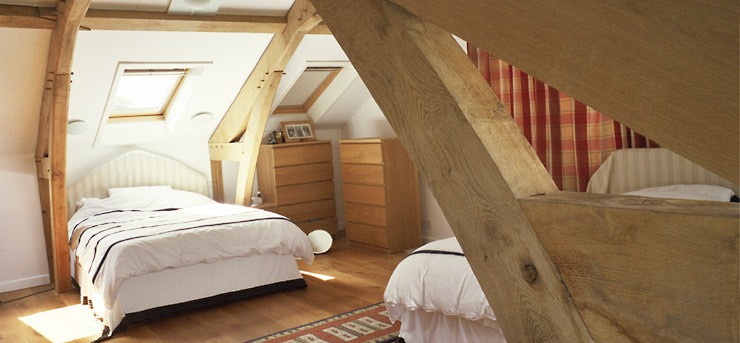 Company History & ethos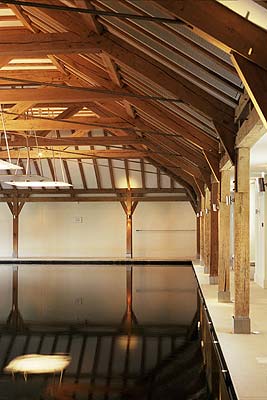 Oak Frame Carpentry was set up in 1996 but the owner, Tim Potts, had been working with oak frames since his fascination with this type of construction began more than 30 years ago.
This enthusiasm and passion for the craft is shown within the company in an emphasis on the understanding of the vast resource of British timber frame buildings, and the use of traditional hand tools and techniques.
The cornerstone of our production process is English plumb-scribe carpentry, an ancient system unmatched in its ability to create accurate joints between uniquely shaped timbers.
In fact, the core processes carried out in the workshop of the The Oak Frame Carpentry Co Ltd would be largely familiar to a medieval carpenter, despite our use of hand-held power tools where these increase our speed and efficiency, reducing production costs.
In an age that is becoming more aware of the impact that human activities have on our environment, oak frame carpentry is being rightly recognised as among the most sustainable building methods available.
We have always made it a very high priority to ensure that our company has the most positive environmental impact possible, and we also ensure that we maximise the social benefit available from our business operation.
The Carpenters Fellowship
The director of the company, Tim Potts, sits on the board of the Carpenters' Fellowship and is one of the driving forces behind the CF Training and Standards Committee. The Committee successfully developed and launched new nationally recognised qualifications for oak framing - the first that have existed in modern times in this almost entirely unregulated industry.
Tim continues to work to promote and provide training and assessment within the wider industry and Oak Frame Carpentry is rightly considered a centre of excellence, being the first company to provide specific framing qualifications to its workforce.
We continue to aim for ever higher standards in both craftsmanship and design.